Slow Seminar no. 34
Green Planets: Ecology and Science Fiction
Info about event
Time
Tuesday 11 July 2017,
at 14:00 - 16:30
Location
Jens Christian Schous vej 3, 8000 Aarhus C (1451, 515).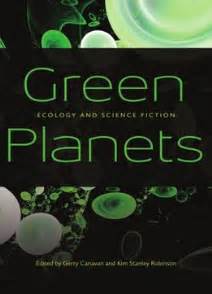 Dear friends of AURA
The last Slow Seminar before Summer vacation starts will take place July 11, 14.00-16.30 at Jens Christian Schous vej 3, 8000 Aarhus C (1451, 515).
Line Marie Thorsen who is an AURA affiliated PhD student will lead the seminar. She writes:
I have suggested that we read select chapters of Green Planets: Ecology and Science Fiction (attached as PDF), edited by Garry Canavan and Kim Stanley Robinson. This is a collection of essays by literary scholars all considering how science fiction writers have been working through horizons of climate and environmental issues, and how such science fiction intersects with broader fields of ecology, environmentalism, eco criticism and environmental humanities.
Among other things, Green Planets considers some of the ways in which SF narratives can variously reflect, resist, and imaginatively transform real-world situations through the estranged perspectives that are a particular strength of the genre. Many of the essays furthermore examine how real-world socio-politics have drawn upon science fiction to support a wide variety of different responses to environmental questions and as such, how SF is always blurring and drawing our imaginaries of past, present, and potential futures together.
While you are, of course, free to read the entire book we will primarily be talking about the following chapters:
Introduction: If this goes on
Garry Canavan
Evolution and Apocalypse in the Golden Age
Michael Page
"The Real Problem of a Spaceship is its People" – Spaceship Earth as Ecological Science Fiction
By Sabine Höhler
Care, Gender, and the Climate-Changed Future – Maggie Gee's The Ice People
By Adeline Johns-Putra
"The Rain Feels New": Ecotopian Stategies in the Short Fiction of Paolo Bacigalupi
By Eric C. Otto
Churning up the Depths – Nonhuman Ecologies of Metaphor in Solaris and "Oceanic"
By Melody Jue
Afterword – Still I'm Reluctant to Call This Pessimism
Garry Canavan and Kim Stanley Robinson
Finally, for those interested in reading a bit of climate-related fiction by some of the key contemporary authors in the genre, I can recommend the book I'm With the Bears – Short Stories from a Damaged Planet. I don't have a PDF of it, but you can buy it as e-book via Verso Books for about 45 DKR or 7 USD.
We hope to see many of you there!