Anthropology, Climate Change, and Climate Fiction: Zones of Contact
This AURA workshop will center on a text and film that raise questions about the genre challenges of climate change. The film will be discussed in relation to the text.
Info about event
Time
Monday 18 September 2017,
at 10:00 - 16:00
Location
Richard Mortensen Stuen, Studenterhuset, Bygning 1422 - Fredrik Nielsens Vej 2, 8000 Aarhus C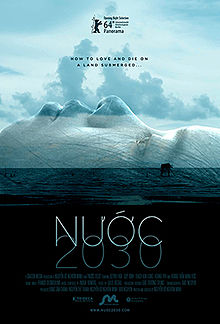 Text to be read by all participants prior to event:
Wound-up Worlds and The Wind-Up Girl:On the Anthropology of Climate Change and Climate Fiction
By Casper Bruun Jensen
Abstract
While climate change is occurring in the Mekong river basin, in recent years climate fiction has exploded on the literary scene. In this paper, I attempt to put these phenomena into contact in an ontologically multi-sited ethnography of climate change and climate fiction. Rather than assuming a radical separation between real and fictive worlds, with the consequence that the latter can at best provide metaphors for understanding the former, this entails a lateral comparison that moves back and forth between the realms. On the one hand, as objects of ethnography, works of cli-fi can be examined in terms of the climate-changed worlds they construct and the responses generated within those worlds. On the other hand, as objects for ethnography, these worlds and responses can be laterally compared with different situations, like those found around the Mekong basin. Engaging in both modes of analysis, I experiment with constructing a sliding scale in which present realities in the Cambodian Mekong gradually blur into the cli-fi world of Paolo Bacigalupi's (2009) The Wind-up Girl.
This manuscript will be sent to those who register for the event.
Film screening:
Nuoc 2030
Director: Nghiem-Minh Nguyen-Vo
Synopsis: In a near future Vietnam where global warming and rising seawater levels have forced cultivation to be done on floating farms, a strong-willed woman has to make a critical decision about her ex-lover, a suspect of her husband's murder.
'And here there is also the cinematic brilliance of the work: this is neither a science fiction movie, another apocalypse movie, nor a thriller or a love story. Rather, it is all together, and even beyond that the word "hybrid", which one would try to use in such a case. Nuoc / 2030 is also not as avant-garde film, nor as genre cinema classify, rather it simply defies all conventions and is everything and nothing at the same time. The film rejects the usual patterns and expectations and thereby gains its own sovereign terrain - a country (or rather a sea) of new images, ideas and turns that you will absorb in a short time, as if they were the last leaf lettuce, the last flower, the last branch' KINO-ZEIT
Workshop Schedule:
10.00 – Welcome (Heather Swanson)
10.10 – Introductory comments: Casper Brunn Jensen
10.30 – Discussion of Jensen's pre-circulated paper
12.30 – Lunch (Sandwiches provided)
13.45 – Film screening (98 minutes)
14.15 – Coffee Break
14.45 – Discussion of film, in addition to general discussion about genre in climate change scholarship
16.00 – Event end
Please register by emailing Mia Korsbæk at korsbaek@cas.au.dk Please indicate if you have special dietary needs.